FOR EMPLOYEES
16.02.23
How to Push Forward Your Job Post or Service on Djobzy
Today we'd like to tell you about our promotion feature. It helps any of your job posts or services to be seen by more people. Finding the right candidate for a job can be challenging. That's why we offer a simple and cost-effective way to promote your job or service.
How to Promote your Job Post
Djobzy promotion service allows you to set a budget of between $5 and $7. For the price of a breakfast you are getting things running much faster. Your job or task will be much higher in the job search result on Djobzy that will increase its visibility and draw much more attention to it. Your one-week marketing campaign lets proper people notice your job posting.
To promote your job post on Djobzy most effectively, please consider these points:
Make sure that the details of your job posting are accurate and up-to-date
In order for potential candidates to understand the role and its responsibilities, it must be clearly written and include all the information, such as the location of the position (if the job isn't virtual), the salary range, and any other important information.
Include a link to your website or other online profile, if you have one. This will help potential applicants get a better idea of who you are.
Make sure you are targeting the right audience for your job posting
When promoting your job post on Djobzy, it's important to consider your target audience. If you are looking to fill a certain position, make sure your target people are qualified and have the necessary skills.
Think about the type of person you would like to hire, and the skills needed for the job. Make sure your job posting speaks to the appropriate audience.
Include relevant keywords in the Title
Why? It helps your job post appear in the search results when potential candidates search for a job. Keywords should be related to the type of job, skills and qualifications, and job location. This will help ensure that suitable candidates will find your job posting.
Promoting is easy. Just open a job post you created and click on "Promotion" button.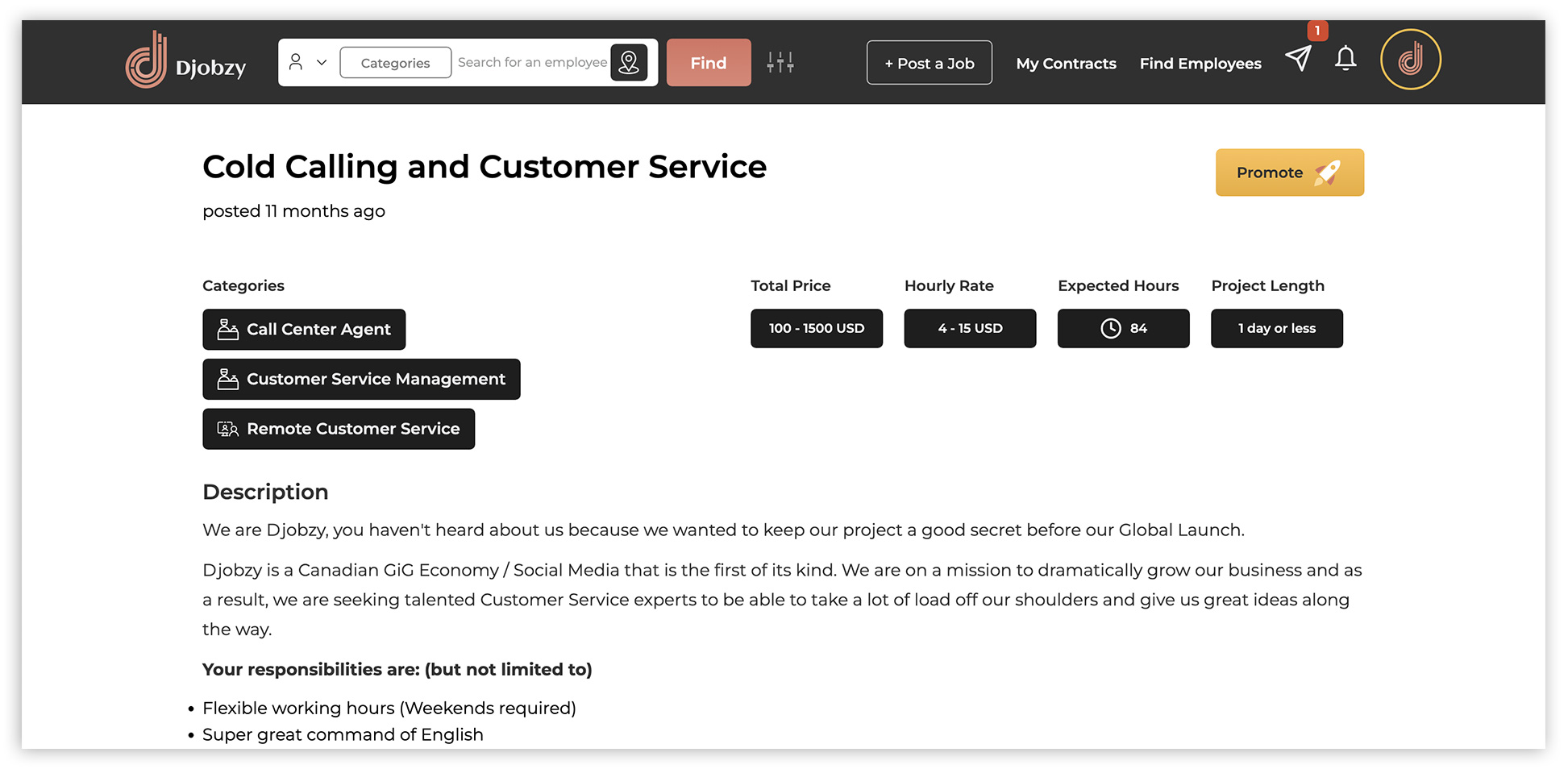 Promoting Your Service as an Employee
Looking to promote your services in a particular category? Djobzy can also help. This type of promotion costs just $1 to $3 and will last for a week from the date of purchase. This will help ensure your services are seen above others on job search pages, giving you the chance to stand out and attract more potential clients.
Choose the Right Category
Make sure you select the right category to promote your services. This will ensure your services appear in the correct areas and are seen by the right people. For example, if you offer web-design services, you may want to target people in the technology industry who are interested in graphic design. If you offer marketing services, you may also want to target those who are interested in The advertising category. Once you have chosen the category, you can start promoting your services.
Fill Your Profile Before Promoting Yourself
Your profile should be accurate, current, and comprehensive, with a good description of your services, together with any pertinent credentials or certifications. Include all of your relevant talents, experiences, and knowledge, as well as any recent projects or successes. Make it a point that there are no typos, grammatical problems, or other flaws in your profile.
Last but not least, a professional headshot photo of yourself with a clear, high-quality photo that conveys the right message and smile! Remember that this is the first impression people will get from your profile.
Promoting is easy. Open to your employee's profile and select the "Promote" button.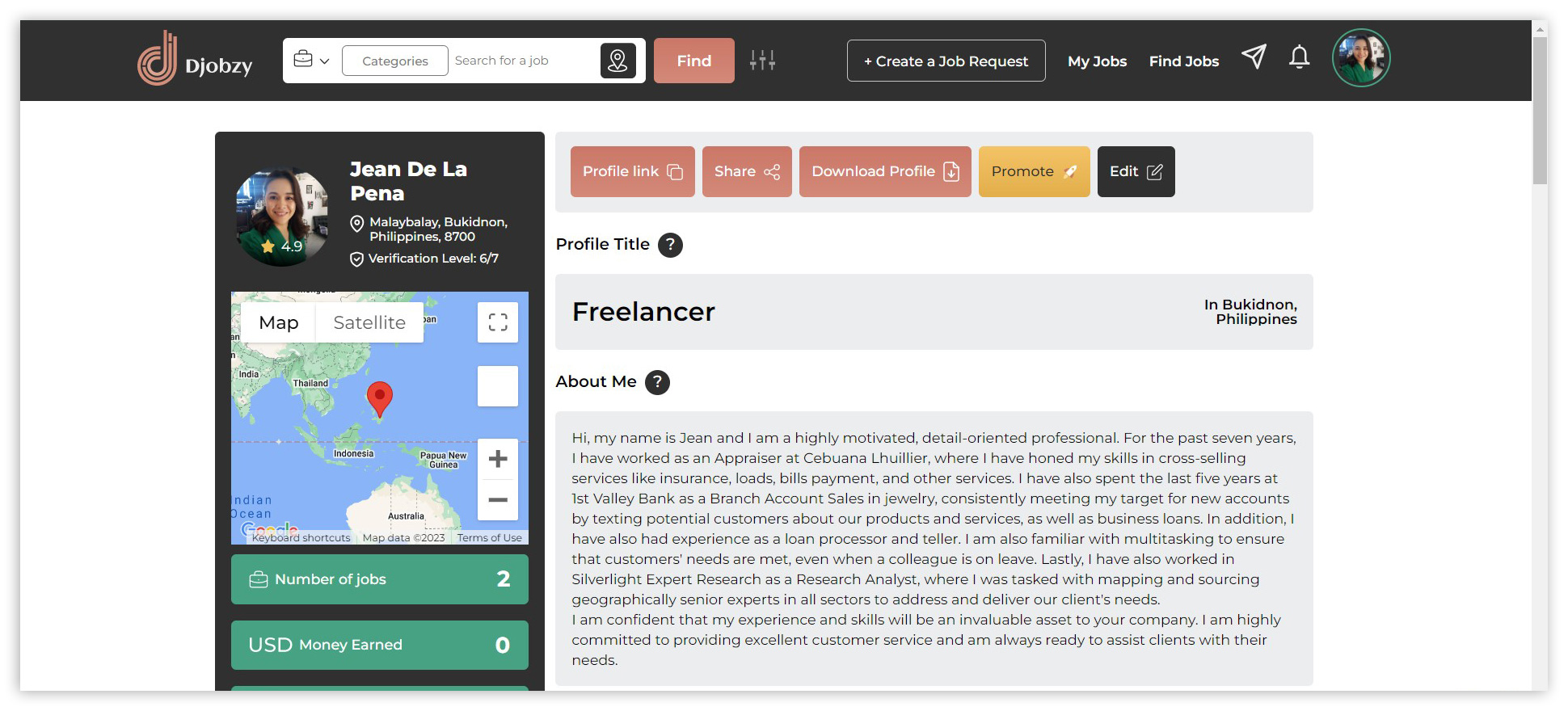 Conclusion
So now you can reach a wider audience by using the Djobzy Promotion Feature. Get started today and take advantage of our job promotion services.